The second interim report by the Modern Slavery Act Independent Review makes a series of far-reaching recommendations to remedy the shortcomings of the Transparency in Supply Chains (TISC) clause (section 54), echoing CORE's submission.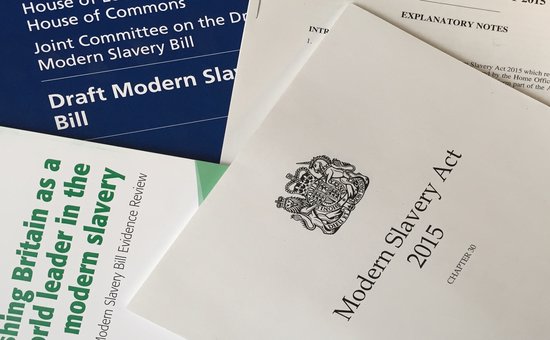 Almost four years on from the introduction of the UK Modern Slavery Act (2015), levels of interest among businesses, investors, media and the public about the prevalence of extreme exploitation in the private sector and beyond remain high. Yet, the Government has faced mounting pressure over the shortcomings of the TISC clause, which requires all businesses with a turnover of over £36million to produce an annual slavery and human trafficking statement. Statistics suggest that many businesses are treating compliance as discretionary, rather than obligatory.
Following calls from NGOs, former Independent Anti-Slavery Commissioner (IASC) Kevin Hyland, Parliamentarians and some businesses for more effective monitoring and enforcement, the Government initiated an Independent Review of the Act.  Frank Field MP, Maria Miller MP and Baroness Butler-Sloss were commissioned to consider how to strengthen and enhance the current legislation.
In January the Reviewers published their second interim report, focusing on the TISC clause. Here, we compare the report's recommendations with those from our own submission to the review.
Improving reporting quality
Research by CORE and BHRRC has found that many companies are not reporting on known risks of modern slavery associated with specific commodities and sectors, and only a handful demonstrate a genuine effort to identify and mitigate human rights risks.
We were pleased to see the Reviewers note and echo "strong calls" for the six reporting areas currently suggested in the Act to be made mandatory. They also recommend improving the statutory guidance for businesses on these six areas.  Further recommendations under this heading include: requiring companies to consider their entire supply chains; to report on intended future actions to tackle modern slavery, as well as past actions; and the removal of Section 54(4)(b), which allows companies to report they have taken no steps to address modern slavery in their supply chains.
Several of these recommendations were included in our submission. If implemented and enforced, they would make a significant difference to the quality of corporate reporting. Looking further ahead, requirements should evolve towards a focus on assessing the effectiveness of corporate actions on modern slavery, rather than simply requiring a description of actions taken.
Improving compliance
Many companies who fall under the scope of the Act are yet to publish a statement. We called for the publication of a list of businesses required to report under the Act and a publicly accessible central repository of statements, to enable effective monitoring of compliance. The Reviewers also want to see a public list of companies and are clear that "non-inclusion in the list should not be an excuse for non-compliance." They support proposals for a repository, however, the report does not mention where this would lie. We suggest that it fall under the remit of the IASC's office.
Even if a list of companies and registry of statements were available, it is likely that some companies would still fail to report and would not respond to third-party pressure to do so. We called for non-compliant companies to be taken to court, with financial penalties introduced for those who fail to produce a statement or meet the minimum requirements.
While the Reviewers' consideration of sanctions is welcome, the report gives scope for the Government to delay their introduction. It recommends adopting a "gradual approach to legislative provisions" including initial warnings, fines, court summons and directors' disqualification, with sanctions to be introduced over the next few years. It also suggests that the Government bring forward proposals to set up an enforcement body. This is welcome and should be expedited, as a failure to penalise non-compliance sends a message to companies that compliance is voluntary, not obligatory.
Public procurement
CORE and others have called for the Act to be extended to cover public procurement. In 2018 we published a report with ICAR, 'Who Made Our Uniforms,' which found that companies supplying apparel to public sector authorities tend not to publish information about their supply chains and sourcing.
The Reviewers note that "there was a general agreement among expert advisers and stakeholders consulted that government should lead by example and be covered by section 54." They recommend that Whitehall departments should produce annual statements, and that local authorities, government agencies and other public authorities should report under the Act if their annual budget exceeds £36 million.
The report proposes the Crown Commercial Service should keep a database of public contractors with compliance and other details on ethical standards accessible for public authorities and that non-compliant companies in scope of section 54 should not be eligible for public contracts.
Our research also found that a significant proportion of government contracts are given to companies with turnover below the £36 million threshold for reporting under the Act. In light of this, we would like to see all entities bidding for public contracts being required to publish a statement, irrespective of turnover.
Facilitating changes to corporate culture
In their most far-reaching proposals, the Reviewers suggest amending the Companies Act 2006 to require firms' annual reports to include a reference to their Modern Slavery Statement and for a named Board Director to be personally accountable for its production. They also call for Directors to be liable for disqualification for failure to report on modern slavery risks or to act when instances of slavery are found.
What next?
The Reviewers' report demonstrates that they have listened carefully to civil society experts. While we would like to see the immediate introduction of financial penalties, overall the recommendations offer a significant opportunity to make the legislation more effective. The government should implement the recommendations to ensure businesses take the Act seriously. The independent review will produce a final report in due course.