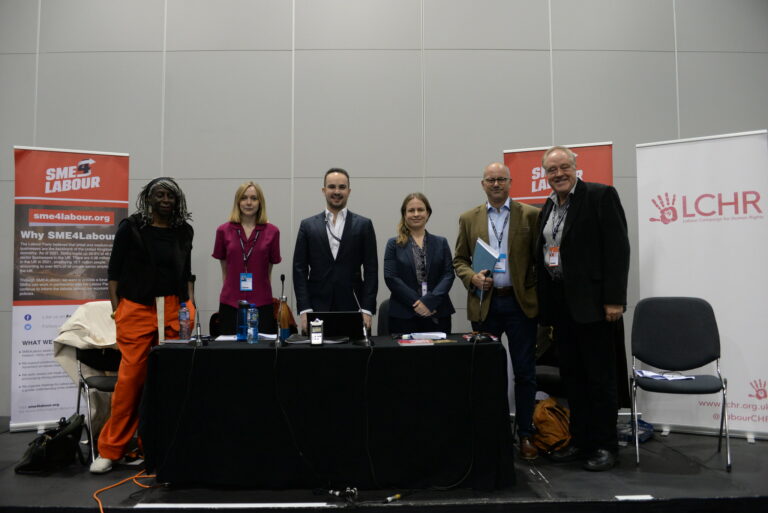 This October the Corporate Justice Coalition (CJC) will be jointly coordinating its third consecutive Labour Party Conference Fringe event, Green Prosperity and Human Rights: Preventing UK Corporate and Public Sector Supply Chain Abuses.
The event will be co-hosted by the Labour Campaign for Human Rights and SME4Labour and chaired by James Jennion, Co-Director Labour Campaign for Human Rights. Speakers will include Labour Peer and former Lord Chancellor and Secretary of State for Justice, Charlie Falconer, a Labour MP (TBC), Clare Oxborrow, Friends of the Earth, Jaselle Williams, a consultant for Tony's Chocolonely, and Dan Leader, Partner, Leigh Day.
The 2022 Fringe event coordinated by CJC, Regulating For Rights: Due Diligence, Human Rights And The Environment, included Crossbench Peer Baroness Lola Young, Lise Smit from the British Institute of International and Comparative Law, former MEP Richard Howitt and Chloe Cranston from Anti-Slavery International as speakers.
The 2021 Fringe event coordinated by CJC, Human Rights and Corporate Supply Chains: How to Prevent UK Companies from Profiting from Slave Labour, included Emily Thornberry MP, Stephen Kinnock MP, Rahima Mahmut, UK Director of the World Uyghur Congress, and CJC Director, Mark Dearn.
This year, the first draft of the Labour Party's National Policy Forum (NPF) – the Party's top policy-making body – outcome document committed to: "Examine the best way to prevent environmental harms and human rights abuses in supply chains."
While as yet unpublished, CJC understands that the final version has been retained and upgraded, including citing due diligence, environmental harms, modern slavery and labour rights abuses, alongside alignment with international standards.
This commitment aligns with CJC's ongoing campaign supported by civil society organisations, businesses and investors and the public to introduce a new UK 'mandatory human rights and environmental due diligence' law, modelled on the UK Bribery Act – what we call a "Business, Human Rights and Environment Act". Such a law would ensure UK businesses and the public sector prevent human rights abuses and environmental destruction in their supply chains, and are held to account when they fail to do so, as CJC-published case studies demonstrate.
The Labour NPF's commitment to examine a new law is housed under "Green Prosperity" in the NPF document. CJC and 13 partner organisations made submissions on the need for a new law as part of the NPF process.
This builds on advocacy CJC has been undertaking across political parties over the last three years. For Labour, this has included briefing the International Development Committee, and the entire Shadow DIT and FCDO teams.
CJC has published a Westminster-facing website and pledge for decision makers in support of a new law on business, human righst and the environment to protect people and the planet from abuse  –  signed on to by 43 decision makers.
In May, CJC co-hosted a Parliament event, Levelling the Playing Field for UK Companies: Mandatory Supply Chain Due Diligence to Protect Human Rights and the Environment, along with the APPG on Human Rights. This event was attended by more than 50 Parliamentarians and staff.
This was followed by the tabling of a cross-party Early Day Motion by Labour MP Tony Lloyd, co-sponsored by Caroline Lucas MP, Ben Lake MP, Alison Thewliss MP, Wera Hobhouse MP and Sammy Wilson MP, with 41 signatories in total. The EDM will close after this session in Parliament early October.
This event will be held the secure zone so attendees will need to have party passes. SME4Labour will be recording the event and posting in on their website.