<
a href="/wp-content/uploads/2017/07/ETI-meeting-collage.jpg">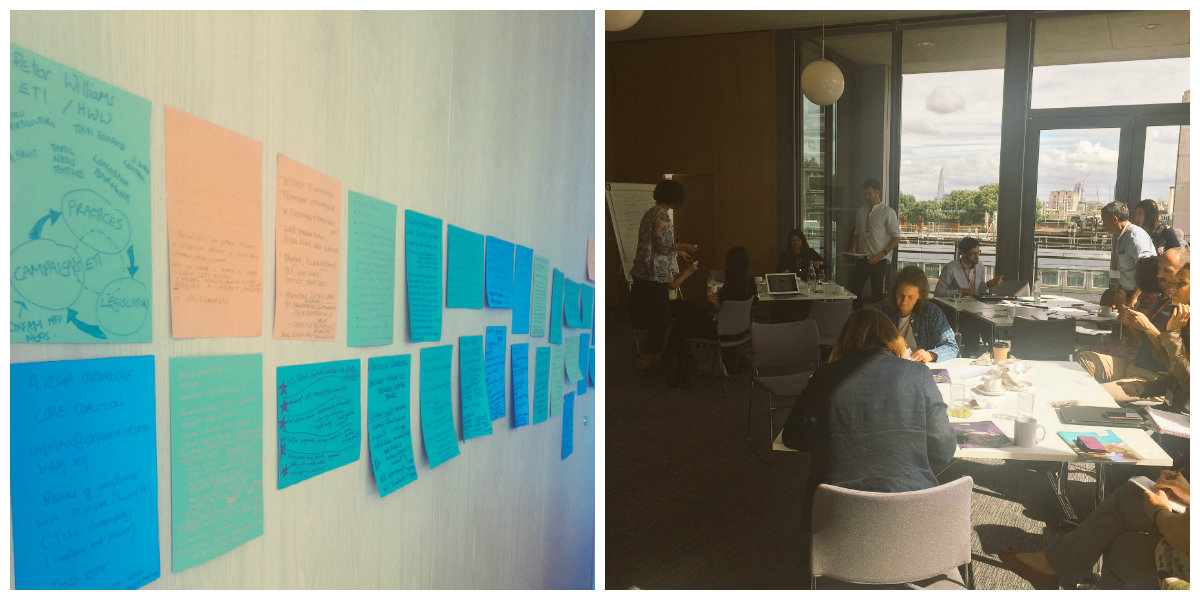 Blog by Ayesha Carmouche
Leading NGO and trade union representatives from UK organisations including Oxfam, the Trade Union Congress, Cafod, Homeworkers Worldwide and Fairtrade Foundation came together at UNISON's head office this month to advance work on labour rights in global supply chains.
High on the agenda of the meeting – co-hosted by the NGO members of the Ethical Trading Initiative, CORE and UNISON – were the challenges and opportunities faced by campaigners engaging global businesses and states on workers' protections.
Whether it is the manufacturing of clothes or the harvesting of fruit and vegetables for international markets, multinational companies greatly impact on workers' employment conditions, pay and ability to organise.
To help kick start the discussions attendees were presented with three case studies of labour rights work involving the Ethical Trading Initiative (ETI).  ETI is a tripartite membership-based organisation comprising companies, trade unions and NGOs which seeks to foster dialogue and collaboration to improve working conditions in company supply chains.
The three case studies covered:
Banana Link's use of the ETI complaints system to hold banana importer Fyffes to account for failing take action against its subsidiaries' denial of decent pay and trade union activity in Latin America;
Homeworkers' Worldwide engagement with ETI member companies on poor working conditions in their leather footwear supply chains in South India;
Advocacy on the introduction of a minimum wage in Myanmar garment factories, supported by 30 European and US Brands (including Tesco, Marks & Spencer, H&M, Primark and Gap).
This was followed by a horizon scanning session highlighting recent international developments including last year's agreement at the ILO to begin discussions about a new convention on global supply chains and the G20 Labour Ministers' declaration.
One of the most positive developments is the growing momentum around mandatory due diligence, as seen in the French Duty of Vigilance law and the Netherland's Child Labour Due Diligence law which require parent companies to take action to assess and prevent human rights abuses in their supply chains.
In the final session participants discussed how we could work more closely together in future and the best ways of using the ETI platform to influence business conduct, including the potential for getting support from more progressive companies for trade union/NGO advocacy for better regulation and enforcement.
With the fast-changing political landscape in the UK and beyond, this event offered a chance for campaigners to reflect on how to combine efforts to tackle social and economic injustice.  CORE will continue to build these connections as we pursue our advocacy work.