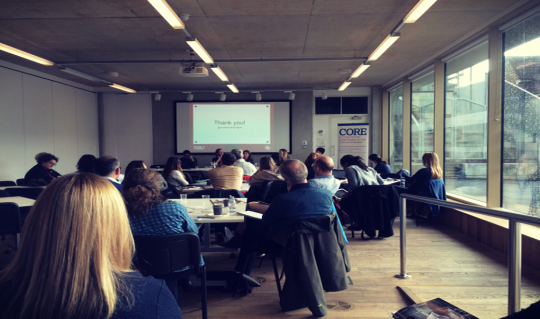 On the 15th February CORE held its 2018 Annual Partner Meeting, bringing together partner organisations, NGOs, academics and government officials to discuss corporate accountability issues and strategies for the year ahead.
Much of the day was devoted to panel discussions on different topics, allowing attendees to find out more about what other organisations are doing across the field of corporate accountability and business and human rights. Panels were held on:
International Developments
Anne Lindsay, Private Sector Lead Analyst, CAFOD.
Nicole Piche, Co-ordinator & Legal Adviser, APPG Human Rights.
Claudia Saller, Co-ordinator, European Coalition for Corporate Justice.
Sue Hawley, Policy Director, Corruption Watch.
Moderated by Jana Morgan, Campaigns & Advocacy Director, International Corporate Accountability Roundtable.
Trade and Human Rights
David Rolfe, Head of Sustainability, Trade Policy at Department for International Trade
Jean Blaylock, Coordinator, Trade Justice Movement
Dr James Harrison, Reader and Associate Professor in the School of Law, University of Warwick
Moderated by Matt Grady, Senior Policy Advisor, Traidcraft
Corporate Governance
David Styles, Director of Corporate Governance, Financial Reporting Council
Janet Williamson, Senior Policy Officer, Trade Union Congress
Dean Cambridge, Corporate Stewardship Engagement Manager, WWF-UK
Moderated by Camille Le Pors, Programme Manager, Corporate Human Rights Benchmark
New Approaches to Achieving Change
Sarah Ditty, Head of Policy, Fashion Revolution
Tricia Rich, Fundraising & Campaigns Director, SumOfUs
Theresa Heithaus, Program Manager, The WikiRate Project
Camille Le Pors, Programme Manager, Corporate Human Rights Benchmark
Moderated by Nick Perks, Trust Secretary, Joseph Rowntree Charitable Trust
Supply Chains and Labour Rights
Patricia Carrier, Project Manager, Modern Slavery Registry at Business & Human Rights Resource Centre
Clare Richards, Programme Manager, ShareAction
Ruwan Subasinghe, Legal Adviser, International Transport Federation
Moderated by Sarah Ditty, Head of Policy, Fashion Revolution
Mandatory Human Rights Due Diligence
Gabriela Quijano, Legal Adviser, Business & Human Rights, Amnesty International – International Secretariat
Dr Anil Yilmaz, Lecturer, School of Law, University of Essex
Daniel Leader, Partner, Leigh Day
Moderated by Marilyn Croser, Director, Corporate Responsibility Coalition
The day closed with a session giving others the opportunity to share the projects their organisations are engaged in and networking drinks. If you wish to follow up on anything discussed at the meeting, please contact william@corporate-responsbility.org. We thank everyone who attended and look forward to seeing you all again next year.